How the program adapts to each child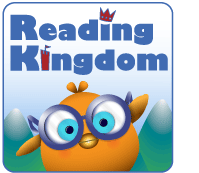 Are you looking for a complete reading curriculum for homeschool, or a reading program to supplement to your existing curriculum?

Then, join thousands of happy homeschoolers and sign up for the Reading Kingdom today!
Reading Programs & Curriculum For Homeschool
The Reading Kingdom is the ONLY fun, easy-to-use online reading program that customizes itself to your child and teaches all the skills necessary to make your child a successful reader and writer. It's acclaimed, tested, and trusted by moms, teachers and educators.
Read more rave reviews from homeschoolers
After your one month free trial, subscriptions to Reading Kingdom are $19.99/month , or $199.99 per year. Additional children in your family get 50% off ($9.99/month). You can cancel your subscription at any time. And if you sign up for a no-risk subscription right now, you can save 25%!
Our Pledge
We're passionate about promoting literacy and believe that every child has the right to learn to read. We don't want to turn anyone away. So, if you can't afford to pay for the program, you can apply for our scholarship subscription.
Bear in mind that we're a privately run company and make our money through your subscriptions, so if you can afford to pay, please do so, because your support enables us to continue to develop products and promote literacy.
To apply for our scholarship subscription, please fill out this form.